christinaj73
| 05.30.2019 |
Reports - sissySexuality
As sissy contemplated what next assignment to pursue after completing he.r first visit from Aunt Flo, it seemed only natural and expected to begin proper training of he.r sissy cunt. Having already purchased and medium/small butt plug, sissy decided to begin using it in accordance with the assignment instructions provided by the Staff.
Before showering sissy collected the necessary things: a douche, lube, and butt plug. Before showering sissy gently lubed her cunt with one well-greased finger ensuring to slide the finger in as far as possible to lube as much of he.r pleasure canal as s.he could reach. Sissy then applied a small amount of lube to the nozzle of the douche. With one leg on the side of the tub to gain easier access, sissy slowly inserted the douche nozzle. Once completely inside, s.he began to squeeze the liquid contents into herself. Sissy could definitely feel the cold liquid starting the expand he.r insides. In hopes of making sure s.he could expel everything in one sitting, sissy removed the bottle, refilled it with water, and emptied the douche inside herself again. This additional amount made sissy feel even more full. Sissy removed the nozzle again, but held all the contents inside for a few extra minutes before sitting down to let it all out. The rush of liquid coming out was quite comforting.
After getting he.r insides all clean, sissy proceeded to the shower. Sissy shaved he.r legs and used a little extra body wash to thoroughly wash he.r sissy cunt to get it extra clean and smelling good. Once out of the shower and towel dry, sissy smoothed "sweet pea" scented body lotion all over and put a little more lube inside he.r sissy cunt to prepare for inserting the plug. At this point, sissy's heart was beginning to beat faster in anticipation of what was soon to come.
Sissy took the butt plug, washed it off good, dried it, and applied a small amount of lube. Again, putting h.er smoothly shaven leg onto the side of the tub, sissy found he.r cunt opening with a finger, slowly massaged it, and slid the finger in again to loosen up he.r sphincter muscles some more. Then, sissy took the plug, slowly rubbing the pointy end around he.r cunt opening and gently started to push it up and in. The feeling of it stretching he.r hole open was intense and wonderful. Sissy actually slid it in just a little, then let it ease out, then pushed it in a little further, and repeated this process until the butt plug was fully inserted and seated properly.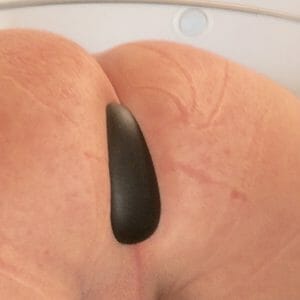 The feeling was so incredible. Sissy washed he.r hand, tucked he.r clitty, pulled up he.r panties and finished getting ready for the day. Sissy will leave the plug securely in place until bedtime, that will be a full day of 9-10 hours being tucked, pantied, and plugged…which makes this sissy truly happy and content.
Thank You Madame Stewart for this fabulous assignment and helping chrissy progress into a better and better sissy.
sissy chrissy