Greetings Mistresses (curtsey) and hello girls!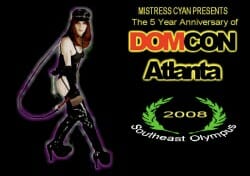 You know one of the things you hear around the House almost anytime i'm in the chat room is: "I cant find a Mistress. Where are the Mistresses." I always have the same response. Go to Dom Con Atlanta. Or Dom Con LA.. They're are wall to wall Superior Ladies. Both professional and lifestyle and some both in one incredible package. They come from all over the world to get together to exchange information and play naughty naughty games all weekend long. Now granted Dom Con is billed as a pansexual industry / Lifestyle event and it truly is. Its cool to see the gay leather community, the queens, The puffed up "Masters" all laying down their thang. That doesn't happen any place else…that sense of community. But Dom Con from its creation has always been about The Dominant Ladies.. Scores of them. Picture a Hotel full wall to wall with Superior ladies all shopping and wielding a wide variety of intimidating implements looking for willing submissive ass to function test on.
That's where im heading this weekend. Into the heart of submissive sissy paradise. That is where you should be. And now that im writing this blog you will have absolutely no excuse for having a pink white pasty ass unmarked and un kissed by leather.
The preparation for this convention has been so delightful. I've been working my little queen self into a dither trying to get ready. Making costume pieces. Rhinestones and marabou feathers everywhere. Its all pink of course. . Then last weekend I was ordered over to Mistress Alexia's Dungeon. All I had been told is she wanted me try to something on. Well being the devotee swish that I am, the offer of trying anything on for the Mistress is enough to send me into fits of girlish glee. Orders completely unnecessary, as though I would deny The She God Alexia Jordon anything I could possibly provide. Perish the thought. She could order me to saw off my left nipple and id be looking everywhere for a hack saw and the aspirin bottle. Now don't freak out girls…. Mistress Alexia probably wont actually saw off my nipple. I mean really, where would she hang the clamps?……….. Oh yeah there is that place.(Wince)
Ahh but i wax demented, back to the perverted subject at hand……..
Imagine my rapture when I arrived and found that Mistress Alexia had laid out not one but four fabulous maids uniforms for me to wear. Two classic black formal uniforms for formal events such as serving at the Mistresses tea which my Mistress sponsors and the Mistresses dinner. A pink satin divine girly number for serving during the day as she wanders the convention and I follow behind ready to serve in a thousand little tasks. And finally a red vinyl maids uniform with matching underwear for the play parties at Ms. Whips incredible dungeon bed and breakfast. Did I mention the shorty lace up and buckle boots with the six inch wicked heels and pointy torture toes in matching red as well. Hot! Sissy maid from burlesque hell! Each and every one of these maids uniforms were complete with all the fluff and lace one would expect from such things. No detail over looked. No half ass effort. Petti pants, petticoats extra lace aprons… It was all there.
Of course I am coming through with the wigs. Being an old Queen I have more hair helmets than an aging talk show host. Mine are much better coiffed. There's my signature Veronica Vinyl page boy wig. With just the right amount of Bette page curl and the bangs turned inward at just the right angle. Then there is the Victorian sausage curl wig. (A hairstyle It was not easy to recreate at all I might add.) Then there's my cute little beehive bubble. Just because its fun to throw a little camp into the mix and feel extra girly sometimes. The blond hair and the fixed bow at the front above the bangs looks soo damn cute.
I adored being Mistresses little dress up doll. And she seemed so pleased to see me in her things. Then she said something that just made me feel all warm and gushy inside when I asked if she was planning on dressing a sissy army. She said. "I just want My sissy maid to have the prettiest things. " I felt so special so secure so completely owned by Mistress at that point I almost cried. That's what this whole D/s relationship thing is about right there. That's the connection that's what makes it all worth it. Those moments are so beautiful so fulfilling for me.
I will have allot more to report once I get back from Dom Con Atlanta. Its going to be a blast. I will spare you no sordid detail. No girlish titter. No depraved debasement. Lots of pics coming video and more .Stay tuned it only gets weirder from here.
Carpe Noctum
v