The 
House of Sissify
 is built upon a solid foundation of
strict sissy training
,
discipline
,
forced feminization
, and most importantly – a place for you to be your true
self
. We realize sissies like you take no responsibility for your own desires! We are
experienced
and
capable trainers,
willing to take on the 
full
responsibility
 needed for your desires to come true. 
Don't worry, you will have plenty of opportunities to thank Us.
Ladies…. We are here to help you administer the discipline that your sissy requires. Often copied, but never equaled, We are a full service information and educational institution, providing the tools and strict personalized guidance to sissify, force feminize, train & transition that little sissy into the princess You want to see her become.
Proper training is the key to winning the attention of any Superior. With participation in the House, the opportunity has never been greater to become that deserving sissy slut to a special Lady or Master.
Emphasis has been given to attitude training in its deepest levels, with behavioural adjustment opportunities given at all levels of sissification. With sissy training assignments ranging from Servitude & Sissification Studies to How to Please a Real Man– Our girls learn just what its like to be a "Real Woman".

Proper care of our sissies is very important to the Staff, so each and every girl is immediately placed on a strict Masturbation Schedule, reviewed enthusiastically by the esteemed Masturbation Control Board. Notifications and fantasies are sent to the lucky ones when it is their 'special day', just to make sure your sissy urges are properly administered.
With the combined personal knowledge of the Staff (ranging from Lifestyle Dominants to Post Operative Transsexuals) one can begin to comprehend the volume of information available at the House. Chat rooms, Discussion Groups, Articles, anonymous feMail system and international personal ads make tens of thousands of girls call the House home.
Yes, The House is that online training institution to explore yourself, garner knowledge, find resources, and make great connections and lasting relationships with your community.
Remember girls…becoming a well trained sissy requires hard work, proper education, and serious discipline!
---
Ready to start your training?
---
---
---
Our specially trained sissified sisters, worthy of our highest honor and humiliation!
---
It is early evening and I am dressed in a cute french maid outfit awaiting the return of my beloved Master. Hearing his key in the lock causes my heart to skip a beat and I shiver in anticipation of
"It seems that Larry is interested in men who want to dress and be like women. He definitely has an interest in things feminine, and if you're lucky, in being dominated as well."
Dates are always a problem. I don't know which gender to ask out. I look like a girl and I dress like a girl, and I live like one.
The sissy sat at the bar and sipped her fruity drink - because every Friday night, Daniel would become danielle, and go to a nearby bar and have herself a girly drink with a parasol.
---
---
---
Seventeen years online has amassed the 'nets largest collection of forced feminization, crossdressing and sissy training content, loved & shared by millions.
---
---
---
The fantasy is real.
It's deep. It's been since you can remember – and there is nothing like a sissification and 
forced feminization story
to take you deep into your sissy desires.
Just a sampling of the thousands of humiliating
sissy photos
of Our sissified attention sluts!
We just love our sissy photo albums! All the beautiful sissies, their Mistresses, their inspiration - their feminization progress! Over 15,000
Do you have a lust for lace? Is there anything more lovely than pink satin panties with a border of lace? Or
Panties are a sissy's best friend, and Our girls love theirs. Yes, the girls keep sending in photos of their cute
The Art of Feminization In vanilla sex; art imitates life – but in fetish; life imitates art! So many of our girls at
Is there anything more nurturing than a warm diaper, your favorite blankie, a pacifier and a loving Mommy? We love
Punishment, piercings and chastity, oh my!
Get that Masturbation Schedule submitted!

The exciting meeting place for you to practice the Wanking Assignment on your Special Days!
Milk that clitty with full House approval! Guilt Free
Void where prohibited by Masturation Control Board. Certain restrictions apply. Offer not available to sissy's not participating in the Masturbation Schedule. 

Click here to get on the Schedule!
New, improved and more important than ever!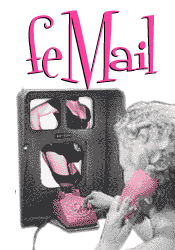 It's the One!
Here's the address that tells the world what a sissy slut you truly are! Now with tremendous features, industrial strength spam filtering and NO DATA MINING! 
It's Fast.  It's Easy.
It's Free.   It's Anonymous.
It's private.    It's Forever!
There's so much more Inside –