grasshopping
| 10.04.2018 |
Reports - Beauty Secrets
This is sissy tiffany's Sissy Nails Assignment Report. She learned that she must first purchase the best nail care supplies, she must fully prepare herself, then she must follow the process, method, and clean up.
To prepare herself she took a full bath with shave. She applied perfume and makeup. She put on her funnest lingerie and summer dress.
For supplies sissy tiffany purchased the top shelf, most expensive files, cuticle sticks, bases, polishes, and top coats. She already had her favorite lotion.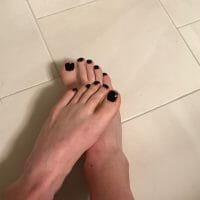 She enjoyed herself in the mirror and said to herself out loud that she is a sissy, that she is not a man. She said it many times, fully internalizing it joyfully.
Following the process she cleansed her fingers with soap, removing all residue on her nails and under. Then she filed and shaped them evenly. She used her cuticle stick to manicure her cuticles. She applied base coat. She applied two coats of color polish, stocking from center to side, base to end. She even delicately did the end of the nail as she loves detail and completeness. Finally she applied two coats of gloss finish. Then she cleaned her mishaps and skin.
Sissy tiffany has a pink polish she loves to death but because her Master, whom she love with all of her heart, directed her that she must move out and leave him now that she is 45, beyond his age limit, she in agreement with her daughters chose black. She will remove and apply her favorite pink after three days of mourning her failings to her Master.
Love and Kisses <curtsey>,
sissy tiffany