reflect upon your inner girlishness
Who do you see gazing back at you?


Your House of Sissify brings you sissyQuizzes to examine your personality, proficiency, and progress. Come now girls, pay attention, sit up, backs straight and take our quizes to discover your inner girlishness.

What's your Hollow Weenie Style?

On Halloween dammit, you can be whoever you want to be! Wondering what costume you may want to wear on your favorite holiday? Take this quiz!
You know you're a schoolgirl when….?

Of course you like the short plaid skirts, and the bobbysocks – but do you really know why you're a schoolgirl looking to be taught by a strong Mistress?

The House can find out so much about our girls, by just a few questions! Wondering what features of the House might apply to you? Take this quiz!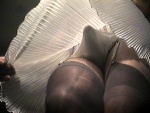 Did you know a girls choice in panties reflects the deepest aspects of her personality? Take this quiz to find out what type of panties will best express your girlishness!