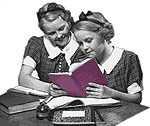 It's  time to put on your cute little plaid skirt and white blouse and grab a notebook  because your House of Sissify is sending you back to school!
Today in school you will learn many things. You might even  surprise yourself. But first you must promise to follow the rules. You must  make sure to have your school supplies and be prepared for the upcoming classes  if you want to pass. This is no school for the lazy lass. We expect our girls  to be at the top of the class and graduate with honors.
 
School Rules


| | |
| --- | --- |
| 1. | One must  not indulge in inappropriate behavior. If it is not your special  day, keep your hands off! |
| 2. | You must  be cleanly shaved  and freshly bathed. |
| 3. | Proper dress  is a must. |
|   | Acceptable:  plaid skirt and white blouse, maid's uniform, teddy with garter and  stockings, or corset  with brassiere, stockings, and panty or thong. High heels are required for  all outfits. |
|   | Unacceptable: male attire,  jeans, frumpy dresses, business suits, tennis shoes or fluffy slippers,  heels lower than three inches, and cigarettes dangling from lips. |
| 4. | No alcohol,  illicit drug use, French fries (messy messy!) or the like, gum chewing,  tobacco use, or foul language. |
| 5. | Obedience  to your Superiors in word, thought and deed. |
See? Now that isn't hard is it?